Safeguarding
Brookfield School has a designated email address for pupils and families who may need additional support, have concerns or require advice.
Please email staysafe@brookfieldschool.co.uk
This email is monitored regularly by safeguarding leads and senior leaders who will aim to respond as soon as possible.
The Senior Designated Person(s) at Brookfield School are: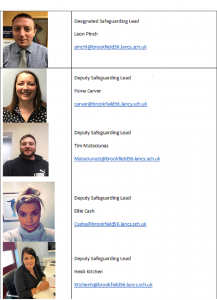 If any person wishes to report an instance of harm against a young person by a member of staff they should contact Leon Pinch, Tim Mataciunas, Ellie Cash, Fiona Carver (SDP), Heidi Kitchen on 01253 886895.
Please click here to access Brookfield School's Safeguarding Policy
Brookfield School is fully committed and works collaboratively with Children and Family Wellbeing Service.
The Children and Family Wellbeing Service (CFW) offers practical support to children, young people, parents and families in Lancashire.
This support can be for a whole range of issues which may be affecting you and your family.
Please click here to access information about the service and information to make a referral.

Brookfield School is signed up to Operation Encompass. This enables school to receive information from the Police about incidents that they have attended. This allows school to have a clear overview of circumstances related to pupils in their communities and allows school to implement strategies to support pupils and families.
Helpful links
Think U Know website  Please click here 
Brook Website – please click here 
Young Minds (Mental Health Support) – please click here 
Please click on the below button to access the CEOP page

Useful  contacts
Children's Social Care MASH Hub: Telephone contact 0300 123 6720
Email: Children.cypsafeguarding@lancashire.gov.uk
Local Authority Designated Officer (LADO): Tim Booth
Email: tim.booth@lancashire.gov.uk
Safeguarding Officer Education LCC: Christine Bridge
Email:christine.bridge@lancashire.gov.uk
Safeguarding Children Website: www.lscb@org.uk
Telephone contact: 01772 531196
Emergency Duty Team (Out of Hours) Telephone contact 0300 123 6722
Police: Telephone Contacts 101
Crime stoppers 0800555111
Channel/Prevent: Telephone contacts 01772 413029, 07943050822
Email: channelreferrals@lancashire.pnn.police.uk
Counter Terrorism Hotline: 0800 789 321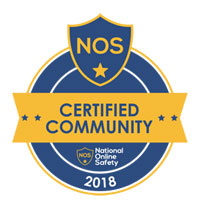 Certified by nationalonlinesafety.com